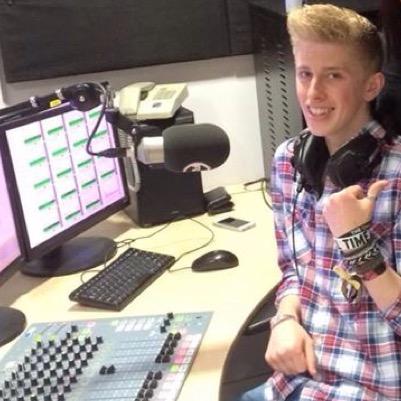 Well just as we thought things couldn't hot any further, THEY DID!
In a chaotic finale, Demo Factor judge Paul Sylvester (Content Director at Absolute Radio) crowned Fly FM's Matt Curtis as winner of Demo Factor 2016 and a show on Absolute Radio 90s!
Described as "radio-ready," Matt will be joining up with Paul Sylvester at Absolute Radio 90s to present a one-off show. Past winners, George Godfrey and Sammy James, who also won a show on the station, have since gone on to present on the station long term.
But that was far from the end, it was revealed from the stage that industry bosses in the room were so impressed by the quality of demos that they were prepared to directly offer opportunities to a select group of presenters.
It was announced from the stage that Spark FM's Christopher Boyle, who impressed early on in the first half, has been offered a pilot on Communicorp's Capital FM stations, whilst North Media Talent's Chris North publicly declared his interest in Insanity Radio's Charlotte Mason, Livewire1350's Sian Cooper, LSR's Mo Ayoub and, this year's Demo Factor 2016 winner Matt Curtis. Amy Voce also made a point of adding that she was incredibly impressed with Charlotte Mason, Rare FM's Ella Atcheson and Fly FM's Kristien Armstrong, and wanted to chat with them after.
However, despite not winning the competition, it was Mo Ayoub who stole the limelight on the night…
Having had his demo played out in full, he received a standing ovation from the crowd and was greeted by a full house of praise from the judges, and industry bosses alike. Such was the impression made, Mo immediately was approached by Bauer's Mike Cass after listening to his demo, and a fight emerged between Bauer and Global as Rob Watson declared he had first dibs. Paul Sylvester then proceeded to laud even more praise, encouraging him to talk with Andy Roberts (Group Programme Director at Kiss).
You can hear the demos of all of the above in full below:
Mo Ayoub (@centricitydj): 
Mo Ayoub - Leeds Student Radio
A multilingual scouser (which is quite possibly a first for someone from Liverpool). I'm the Deputy Station Manager of LSR and basically thrive off of doing Student Radio. Being a Leeds student, you'd think that I must be into House/Techno music (and you'd be right in saying so), but Hip-Hop & Grime are also my bread and butter when I'm not on air. I try and bring an extra bit of spark to Sunday night programming, as I don't want to stifle my sheer excitement when dropping a "hot" track just to sound like I'm on an "Annie Mac's Hot Water Bottle" conveyer belt (although her show is awesome). I'll stop now because I've most probably (read: DEFINITELY) shamed my peers and fellow student radio "keenos" Peace x
Matt Curtis (@_MattCurtis): 
Matt Curtis - Fly FM
Currently Head of Programming at Fly FM in Nottingham and intensely keen on all things radio (obvs)! Presenting, station imaging and production are my top 3 passions.
Christopher Boyle (@chris_boyle_dj): 
Christopher Anthony Boyle - Spark Sunderland
Hi ,Im Chris Boyle From Spark FM and my show is called everything house and i play the naughtiest beats this side of the Angel of the North to kick start your Saturday night.
Charlotte Mason (@Masonmcmasemase): 
Charlotte Mason - Individual Memeber
Future Station Manager of Insanity Radio 103.2FM! (Hadn't appeared as a station yet when I submitted, but our membership has been paid). I have an unhealthy obsession with avocados and pretend I'm a Gryffindor, when really I'm a Hufflepuff. I regularly lose clips in my hair and can eat a pack of Babybels in two minutes.
Ella Atcheson (@yes_atcheson): 
Ella Atcheson - Individual Memeber
4th year languages student at UCL, does a specialist music show on Rare FM focusing on the music and influences of a different band each week
Kristien Armstrong (@K_G_Armstrong): 
Kristien Armstrong - Fly FM
Deputy Head of News at Fly FM and love presenting and news! Also the only Hartlepudlian on the station...
Sian Cooper (@CooperSian): 
Sian Cooper - Livewire
'Livewire is Life', my motto for day to day existence. A committee member, daytime presenter and events enthusiast. I am music mad and was destined to be a presenter from my first word of 'juice' (see it was fate...nearly).
More to follow…