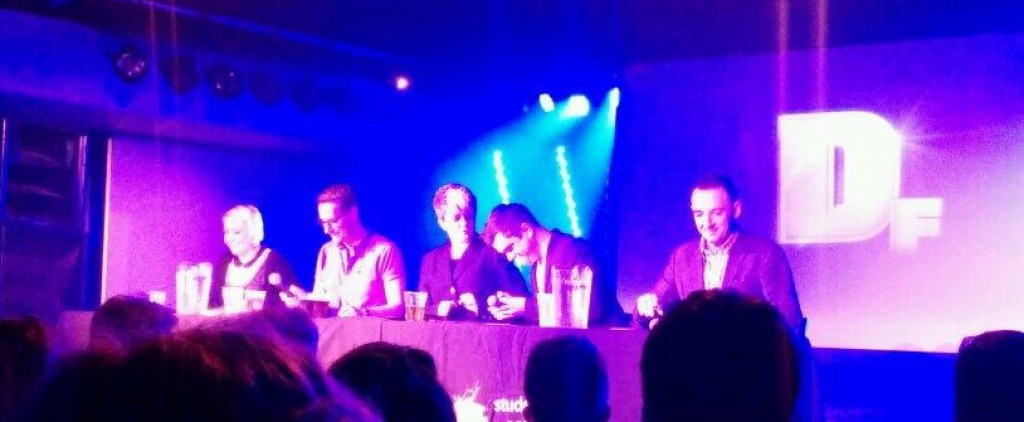 Demo Factor is a unique experience for presenters, producers and station managers to not only hear audio from other student radio stations, but to also get a very real insight into how the industry finds and recruits new talent.
It is the one-stop shop for how to construct links, shows and demos, to get that all important foot on the ladder of the radio industry.
Having been involved as a judge on the Demo Factor panel since it's conception at the student radio conference in Bath, it has always been an incredible experience to offer advice and encouragement to new student radio talent. The conference has always been an amazing event that I look forward to every year and it's so special to work with our Demo Factor team of industry experts; Chris North, Rob Watson, Jocelin Stainer, Paul Sylvester and Adam Catterall.
With Adam unable to attend the event this year, there are a pair of big, well polished, sharp, funny and caring shoes to fill. I only hope I can do the them justice, as I become your new Demo Factor host for 2015!
As I step off the stage and into the midst of nerves, Jaeger and the next generation of award winning presenters, there will be an empty chair up on that stage…but who will be sitting in it? We're looking forward to announcing that soon! Don't think it's all on you though, I'll make sure we push the judges to say what they mean and answer your questions!
For now, make sure you get your audio ready for the conference. Don't waste the opportunity of getting live feedback that could save you time, tears and tantrums in the future! Oh and remember…you never know who's listening as we welcome many industry stars into the room on the night! It could be your time to shine! Best of luck and see you in Exeter! #DevonOrHell
PS below are some useful bits of advice and/or conversation starters!
My memorable Demo Factor moment: Chris North ordering a 'Woo Woo', oh and the demo made up entirely of pan pipe music!
Favourite drink: Whiskey
Radio Hero: Steve Lamacq
3 words of advice: Be Yourself, Be a sponge, Be thick skinned!